N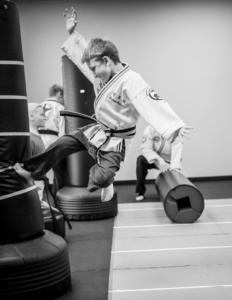 orth Metro Martial Arts (NMMA) was created to provide exceptional martial arts training in a family friendly environment that encourages participation and growth for all its students. Since its inception in 2013, NMMA has grown to provide not only martial arts instruction but afterschool, mentor and leadership programs that are based on the foundational principles of martial arts. NMMA programs have been created to fit the emerging needs of the surrounding community to provide a safe and positive environment that builds confidence, self-esteem, fitness, self-defense and life skills.
We promote leadership by exposing our students to opportunities within their communities and inside our classes that allow for them to translate the values of martial arts into becoming meaningful members of their communities. In addition, all of our programs are integrated and modified to each individual's strengths and abilities, as over 30 percent of our student population has a special need (i.e., sensory processing disorders, autism, intellectual and developmental disabilities.
North Metro Martial Arts is a Partner in Education through the Cobb County School District. As a Partner in Education, NMMA works with the schools in our area to support and enrich the education of their students.
Have a Child with Special Needs?
Martial Arts is a combination of both physical and mental elements. It is highly recommended for children with special needs, hyperactivity or developmental and learning difficulties.
Our classes will help improve a child's:
• balance and coordination
• strength, physical and motor skills
• awareness and attention
• patience and determination
• sensory and speech
• social skills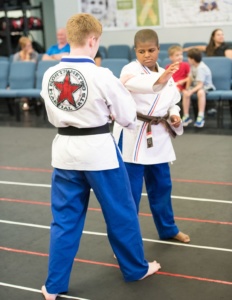 Our classes are created to fit each student's particular developmental need which can help those who may experience difficulties with walking, flexibility, overall range of motion or other concerns. Scott Tasker has been working with special needs children and over the years have found students who participate in a taekwondo programs exhibit increased mobility, memorization and self-esteem. Taekwondo can also function as a form of therapy.
It provides among other things:
• Physical exercise – practicing karate allows students to process information;
• Consistency – repeated movements and practice help organize and focus a student's learning;
• Social skills – setting forth the boundaries of acceptable behavior and reinforcing achievable goals, i.e., the belt system.
Most importantly, taekwondo is "fun!" It gives students with special needs a boost of self-esteem. The rewards of completing a technique, a kick, a strike or a punch, enables confidence and pride. Students are willing and excited to demonstrate something they have learned in class.
Click on the links below to learn more about the classes we offer:
Taekwondo for Kids (Ages 6 – 12)